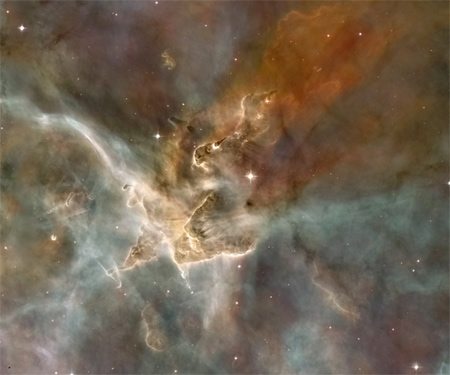 They are having another debate right now at
Babalú
over the trade embargo. What distinguishes
this
debate from all others is that a Babalunian satellite has left its orbit and is headed on a collision course with its sun. We are speaking of Tomás Estrada Palma, fallen under the sway of Ron Paul, who is more loony even than the Babalunians. We are much grieved to hear this because Tomás is a genuinely good and kind man and, what is rarer, a conciliator. At the time of my rupture with Val, he was the only one who thought it possible to effect a reconciliation. He was wrong, of course, but it says much for him that he tried. Unity should always be preserved when possible, but not at the price of sacrificing one's principles. We can only be true to the cause when we are true to ourselves.
Tomás is also Val's cousin. Perhaps this is the reason that he was not insulted, ostrasized or banned when he suggested that Ron Paul is right to favor the lifting of the trade embargo. Frankly, I don't think Ron Raul is right about anything. I take his opposition to the trade embargo as yet more proof that it should remain in place until Castro agrees to democratic reforms (which will be never) or until the restoration of democracy in Cuba by other means makes it unnecessary. Hugo Chávez is the band-aid, as was the Soviet Union before him. But the perpetuation of the Castro regime depends on its ability to be self-sustaining. This it will never be while the embargo is in place. Right now, the regime is one heartbeat away from collapse. That heart is not Castro's but Chávez's, which is why Castro is forever cautioning him to shield himself from the people and to be always on guard against would-be assassins. If, however, the embargo were lifted tomorrow, Communist Cuba would be provided perhaps not with the rope with which to hang the U.S., but certainly with rope enough to keep its people tied-up for several generations more. The Red Chinese have proven that human rights are not an unavoidable consequence of free market reforms; indeed, an economically viable tyranny, which has been integrated into the world market and no longer lives a precarious existence, will use its economic might to perfect and expand its apparatus of repression. Just as a democracy is more viable because it is prosperous, so, too, is a tyranny more sustainable because it can pay its bills (or, in China's case, because the U.S. pays its bills).
While supporting the lifting of the embargo without preconditions, Tomás still favors the ban on travel by Americans to Cuba. I don't know why Tomás feels that he must agree with Ron Paul in respect to the trade embargo but disagree with him on travel restrictions. Ron Paul is more forthright on this subject than on any other. He does not claim that contact with Americans will innoculate Cubans against tyranny. In fact he doesn't care at all whether Cubans are delivered from tyranny or not: it is
their
problem. All he wants is that his "right to travel" not be impinged. Of course, there is no constitutional "right" to visit foreign countries. But, then again, Libertarians often believe that the Constitution violates rather than guarantees their rights.
I received an e-mail from Tomás this week — which I suppose he also sent to other Cuban bloggers — encouraging me to write about Ron Paul. To his credit he did not suggest that we should write positively or negatively. He was unaware, apparently, that I had already followed his injunction. The article, published almost 2 month ago, was in fact picked up by
Ron Paul 24-Hour Blog Radio,
which linked it on its site. This astonished me because it was a highly critical review not only of his Cuba policy but of libertarianism itself. And then it dawned on me: they used it to attract pro-Castro liberals. My attack on Ron Paul as a Castro-appeaser was his bona fides. On the positive side, many hundreds of Ron Paul's supporters came to read that post at
RCAB
who would not otherwise have found their way here, and perhaps I was able to convince some that Ron Paul is a fraud and that to support him is a derogation rather than affirmation of American democracy.
UPDATE:

It seems that not even Tomás' relationship to our first president or even to the august Val Prieto can save him from abuse at Babalú for taking a position contrary to its canon. The first to lead the attack, of course, was George Moneo, who accused Tomás of "scrapping the bottom of the barrel" and cautioned him against "bumping into Hillary, Chris [Dodd] and Baraka" there. Guajiro de Broward later admonished the other commenters "Why do you all argue with a closeminded 'Ron Paul Fanatic.'" So far Val has abstained from the discussion. Or is he only waiting for the repudiation to grow to oust his own cousin from Babalú for the crime of lese majestie?
Notable & Reprehensible: Liberty Is Not for All, Says Ron Paul