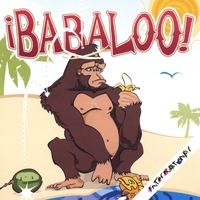 "Babaloo.com" (ha!) (ha!) (ha!)

It's an insider joke. You had to have been there, and being there was no picnic. But it had its small rewards.
Alright, I won't tease you anymore. That's how Ninoska spelt the name of Val Prieto's blog on her show on
Radio Mambí
yesterday. Val corrected her and she in turn corrected him, pointing out that "babaloo" is how "babalú" is spelt in English. This tell us two things: 1). Ninoska has
never
visited Val's blog and 2). Americans who may want to access
Babalú
blog are going to be stumped despite their best efforts because they can't spell in Spanish.
Ninoska's "babaloo" moment was the highlight of the show.
Overall it was a lackluster performance which succeeded only in avoiding all mention of the Estefans; but that, of course, was the heartfelt object of both the interviewer and the interviewed. After all, the Estefans could buy Radio Mambí tomorrow and become Ninoska's boss, or buy Val for life with a copy of
90 Millas
autographed by all the performers on the album. It would serve him right.